Our Rooms
Early Learning Room
2-3years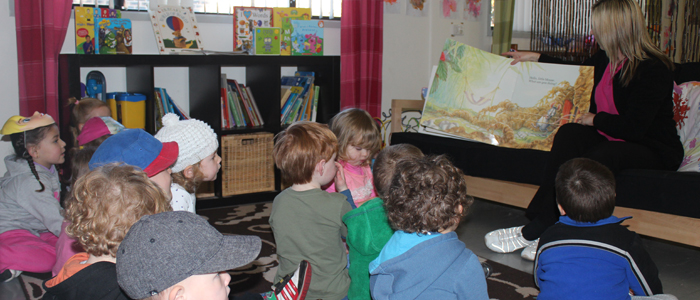 The Early Learning Room has trained and experienced educators who provide a nurturing environment to help your child to develop independence and positive self image. Socialising with peers and participating in small group activities fosters healthy emotional development and will assist your child to gain self confidence and form friendships.
The Early Learning Room's program ensures that each individual's interests and abilities are catered for, encouraging an enjoyment for learning early in life. Our creative materials and equipment facilitate play as a principle means of self expression, problem solving and developing positive social skills. On a daily basis your child will have the opportunity to participate in language/literacy, music and movement, expressive arts, dramatic play and large motor and fine motor activities to ensure every area of their continued development can be met.
Children in the Early Learning Room will progress to the Transition to School Room at a time when they are developmentally ready, this decision will be made, and will consider input from families concerned and our educators. Children transitioning to the Transition to School Room will need to be toilet trained, and without bottles or dummies; subsequently being physically and emotionally ready for transition to this class
Preschool Room
4 - 5 years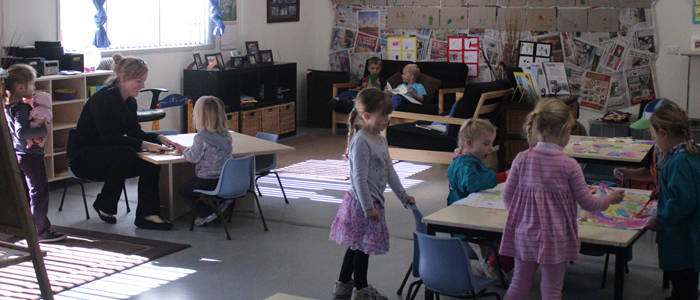 Children in the Preschool Room will be placed within one of two classes; the Ladybird group, for children who are turning four, or; the Dragonfly group for children who are turning five and will be attending school the following year. We are very passionate about providing every child in our care with a comprehensive and meaningful transition to school that provides opportunities for development of the whole child, remembering that social, emotional, physical and spiritual development is just as crucial as the development of academic skills. We hope to send children to school with an established confidence in their ability to succeed, security to try new things, enthusiasm and drive for learning and thirst for knowledge.
The routine and structure of our learning curriculum in the Prechool Room provides children with a balance of independent exploration and play, educator supported play experiences and more formal educator directed experiences. We believe in utilising the children's interests to facilitate their engagement within learning experiences and encourage them to be active participants in learning. Both the Ladybird and Dragonfly group enjoy a small group lesson each day, with a theme derived from observations of children's play, exploration and conversation that encompasses language, literacy, numeracy, science, music and dramatic components. Other experiences throughout the day provide children with further opportunities to experience and explore language and literacy, music and numeracy.
The Ladybird group is aimed at preparing children for the structure and expectations of primary school, we encourage the acquisition of concentration and listening skills, group based investigation skills and literacy and numeracy concepts. Whilst the Dragonfly group provides an expansion upon this, by further challenging the older students and promoting independent learning skills. We have a classroom environment setup at our centre and our Dragonfly group spend one and a half hours in this classroom with our Early Childhood Teacher engaging in experiences to prepare them for formal schooling (for more information see our School Readiness Program).
Reasoning behind the promotion of this structure of classes is due to the desire that all children attending our centre build upon learning experiences, which are based upon success. Children who are exposed to age-inappropriate education or pushed to exceed their capabilities can develop negative associations with learning and its institutions. In consideration of this, we aim to teach children in a way, which builds upon their current knowledge and ability, without providing opportunity for failure; consequently further individualising our programs.